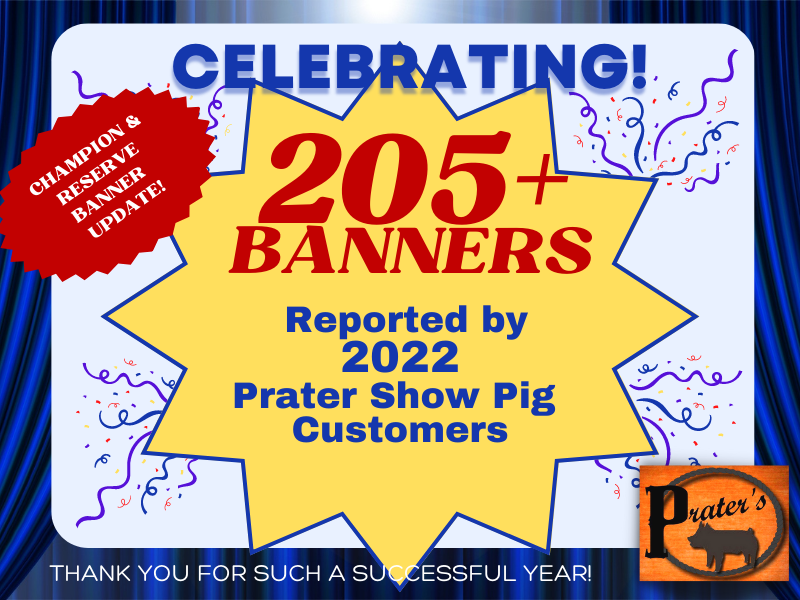 2022 Show Results!
Thank you for a record breaking year!

2015 TN State Market Hog Show Results:
Garrett Franklin - 1st in class
Stephanie Bates - 1st in class
Hannah Sanders - Central Region - Reserve Weight Division Champiion
Bow Familly - 1st, 2nd, 3rd and 4th
Zoie Conner - 2nd in class
Tristan Pope - 3rd in class
Clay Prater 2nd - 4th in class
Kalan Lusk - 6th, 7th in class
Will Prater - 7th - 9th in class
Kaitlyn Hardin - 4th, 5th, 7th, 10th
CJ Armour - 6th in class
Charlie Armour - 7th in class
These are just a few individuals who shared placings and photos.
2014 TN State Fair Results:
Champion and Reserve Chester White Barrow
Champion and Reserve Chester White Gilt
Reserve Champion Crossbred Gilt
Four - 1st in Class
Numerous 2nd - 7th place Gilts and Barrows
Area 2014 Fair Results:
Cumberland County Fair - Reserve Champion Breeding Gilt, Champion Market Hog & Reserve Champion Market Hog
Wilson County Fair - 2nd in class
Obion County Fair - 1st in class & 2nd in class
Decatur County Fair - 1st in class & Reserve Champion Chester White
Benton County Fair - 1st in class
Tennessee River Ag Expo - Champion Market Hog, Champion Chester White Gilt & Reserve Champion Chester White Gilt